Dot Net Project Center in Chennai | Dot Net Project Center in Velachery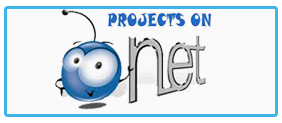 AllTechZ Solutions is the Best Dot Net Project Center in Chennai. ATS offers Dot Net Project in all domains such as ASP.Net, AJAX, Visual C# .Net, MS .Net, LINQ, WCF, ADO.Net and WPF. AllTechZ Dot Net course provides an complete coverage of .NET framework and ASP.NET skills features like ASP.NET Architecture, State Management, User and Custom Controls and Authentication and Authorization, Data Access, Health Monitoring, Web Services, Master pages, Web Configuration, AJAX and Deployment. ATS are the best ASP.NET training provides with excellent course design, practical sessions and above all with the best placement. ATS Dot Net training course provides a series of walk-through and lab assignments which introduce and explain .NET features to practice Web applications and Windows. ATS Microsoft training programs covers basic, intermediate, advanced level training in all modules of all technologies. DOT NET Courses has designed an Industrial job Oriented Training Program for those students looking for their Dream company after finishing their .NET, C#.NET, VB.NET, WPF, MVC, WCF ASP.Net classes. ATS will cover in depth real time technical knowledge of each and every topic in all Microsoft schedule as per the Student needs. ATS provide 100% placement oriented, job oriented, practical oriented Android training in Chennai.
Recommended as No.1 Dot Net project Center in Chennai | No.1 .Net project Center in Velachery by the various college students in India. We provide high class and end to end project training and guidance in Final year projects for DotNet in Chennai at Velachery. Please call us to 7810898997 / 7810998987 / 9677183515 or give a cut call or fill up our online enquiry form to get more details about IEEE DotNet Projects in Chennai | .Net Application Projects in Chennai for current year.