Microsoft Advanced Excel Training with placement in Chennai at ATS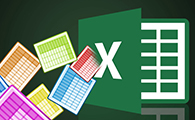 Are you looking for Advanced Excel Macros Training in Chennai, AllTechZ Solutions is one of the Best Microsoft Excel Macro Training Institute in Chennai, located in Velachery provides real-time and practical training with industry oriented syllabus in Advanced Excel Training in Velachery, In Chennai. MS Excel is one of the most powerful business tool, widely used in various business sector and allows us to manipulate, manage and analyze data helping assist in decision making and creating efficiencies that will directly affect your bottom line domain today. You will use MS Excel across various functions including Sales, Finance, Marketing, Project Management, HR, Operations, Supply Chain etc.
EXCEL BASIC OPTIONS
An overview of the Screen, Navigation and Basic Spreadsheet concepts
Understand Excel terminology Workbooks, Worksheets, Rows, Columns and Cells
Various Selection techniques
Various ways to Enter, Edit and Delete information (Text, Numbers, Dates)
Methods to Move, Copy & Paste data
All the Options in Paste Special and Go To
Insert, Delete and Hiding Rows & Columns
Inserting and Deleting ranges
Insert, Delete and Move Cells
Various Navigation techniques
Sheet tab formatting and Renaming
Copy and Clear Formats and Merge Cells
Find, Replace and AutoCorrect
Various Printing Technique like Page break preview, Headers and footers, Freezing print titles & Data Alignments
Formatting of Cells with Number formats, Font formats, Alignment, Borders, Fill Colors and Patterns
Uses Conditional Formatting and Auto Formatting
All Format Cells Options
Uses of Toolbars and Formula Bar
Viewing, Adding, Editing and Deleting Comments
Auditing features and Tracing Formula errors
Protecting and Sharing Workbook, Worksheet and Cell ranges
Using Freeze Panes
Worksheets and Workbooks Calculation method
Hiding and Displaying Data, Rows, Columns, Worksheet & Workbooks
Methods to Move and Copy sheets
Uses of Hyperlinks and Define Name
EXCEL FUNCTIONS
Uses of Excel Formulas
SUM, SUBTOTAL, ADDRESS, AVERAGE, CHAR, COLUMN, COLUMNS, CONCATENATE, COUNT, COUNTA, COUNTBLANK, EXACT, HYPERLINK, RIGHT, LEFT, MID, LEN, LOWER, UPPER, TEXT, OFFSET, PROPER, MAX, SEARCH, TIME, DATE, DAY, MONTH, YEAR, FIND, REPLACE, ROUND, ROW, ROWS, SUBSTITUTE, TODAY, TRANSPOSE, TRIM, INDIRECT, NETWORKDAYS, DATEDIF, MOD, NOW etc
EXCEL ADVANCED FUNCTIONS
Various Methods and Uses of Advance Excel Formulas
VLOOKUP, HLOOKUP, SUMIF, SUMIFS, SUMPRODUCT, DSUM, COUNTIF, COUNTIFS, IF, IFERROR, ISERROR, ISNA, ISNUMBER, ISNONTEXT, ISBLANK, ISTEXT, GETPIVOTDATA, DCOUNT, DCOUNTA, OR, AND, SEARCH, INDEX, MATCH etc
EXCEL OPTIONS
Various Methods and Options of Pivot Table
Various Methods of Filter and Advance Filter options
Creating and Updating Subtotals
Various Methods of Text to Column options
Uses of Data Grouping and Consolidation options
Uses of Goal Seek and Scenarios Manager
Various Method of Sorting Data
Creating, Formatting and Modifying Chart
Data Validation, Creating drop down lists using different data sources
Linking Workbooks and Uses of Edit Link options
Excel Options, Customizing the Quick Access Tool Bar
Formula Auditing features and Trace formula error
Visual Basic for Applications (VBA) & Macro Training in Velachery VBA Overview & VBA Basic
What is VBA?
Quick Review of Macros
Introducing the Visual Basic Editor
Using the Visual Basic Editor
Uses of Record Macro
Understanding and creating Modules
How to create a Message Box
Write program to update and retrieve information using Input Box
Conditions (IF, AND, OR etc.)
Understanding and using Select Case statement
How do I define a Variables and Rules for defining a Variable Name and Type
Creating And Using Variables
Working with For …. Next procedure
Working with Do While …. Loop procedure
Calling Procedures from one procedure to another
How to Save and Protect Modules
Workbook Objects
Create or Add Single and Multiple Workbooks
Workbooks Save and Save As with Password
Open Single and Multiple Workbooks
Close Specific and Multiple Workbooks
Get Count of Workbooks
To refer a particular Workbooks
Activate from one Workbook to another Workbook
Open Workbooks from Specific Path
Get Workbooks Name and Path
Hide and Unhide for Single and Multiple Workbooks
Calculate entire Workbook
Protect and Unprotect Worksheets
VBA Function
What is Function?
User Defined Function
Create a Function using IF Condition and Select Case
Create an Advanced IF Conditional Functions
Create an Advanced Computation and Conditional Function
Create a Vlookup Functions
Create a Sum Functions
Create Count Function
Count All
Count Only Numbers
Count Only Text
Count Only Blanks
Count All
Form Controls and User Forms
Create and Design an UserForm
How to Link the VBA Macro to UserForm
Overview of Form Controls
Create a Form Information Tables and Database
Who can join to Advanced Excel Training Course in Chennai
Any UG and Any PG Degree
BCA / MCA
BE/B.Tech in ECE / EEE / EIE / Electronics / Biomedical / CSE / IT
BSc / MSc (Electronics / Instrumentation / CS / Physics with specialization in Electronics)
M.Tech in Electronics / CSE / IT / Mechatronics
College students / Final year students
Working professionals who are looking for career changes
ATS offers the package cost for Excel Course in Velachery from Rs.2,000/- Rs.10,000/-
Excel Basics Training in Chennai only Rs.2,000/- for 20Hrs Duration
Excel Intermediate level Training in Chennai Rs.4,000/- for 30 Hrs Duration
Excel Advanced level Training in Chennai Rs.6,000/- for 40 Hrs Duration
Excel VBA Macros Training in Chennai ( Coding level ) Rs.10,000/- for 80 Hrs Duration
Excel Training includes the Study Materials, Course completion Certificate with ISO Logo, Exams and Evaluations, Project guidance & Assistance, Placement training and unlimited interviews till settle in job. Help to purchase the Microsoft Certification vouchers for Microsoft Exams, Arranging the accommodation from Pearson VUE Testing Center in Chennai or other locations.
Global Certifications for MS Office course in Velachery
There is various certifications are available for MS Office Course in Chennai Call us 7810998987 / 7810998987 / 9677183515 for more details.
Recommended as No.1 Advanced Excel Training Institute in Chennai by our students and Corporate. We provide high class and end to end training in MS Excel Course in Velachery. Please call us to 7810898997 / 7810998987 / 9677183515 or give a cut call or fill up our online enquiry form to get more details about Excel Training with Placement in Chennai.
Related tags:
MS Excel course in Chennai | MS Excel Course in Velachery | Excel Training with placement in Chennai Excel training with placement in Velachery |Excel Course in Chennai | Excel Course in Velachery | Excel Training in Chennai | Excel Training in Velachery | Advanced ExcelTraining in Chennai |Advanced Excel Training in Velachery | Advanced Excel Macro Training institute in Chennai | Advanced Excel Macro Training institute in Velachery |Advanced Excel Macro Training in Chennai | | Advanced Excel Macro Training in Velachery | MS Office Training in Chennai |MS Office Training in Velachery | MS Office course in Chennai | MS Office Course in Velachery|Excel Training Center in Chennai | Excel Training Center in Velachery | Basic Excel course in Chennai |Basic Excel Course in Velachery | Excel Training cost in Chennai | Excel Course fees in Chennai |MS Office Certification Center in Chennai | MS Office Certification Center in Velachery| Basic Computer Training in Chennai |Basic Computer Training in Velachery | Basic Computer Course in Chennai | Basic Computer Course in Velachery