Electrical Project Center in Chennai | Electrical Project Center in Velachery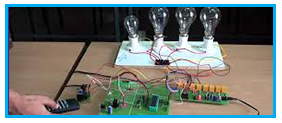 AllTechZ Solutions is the Best Electrical Project Center in Chennai. ATS Provides Electrical Projects and is a field of engineering that usually handles with the study and application of electricity, electromagnetism, and electromagnetism electronics. The Electrical Project in various domain such as Electronic, Telecommunication, Instrumentation, Signal Processing, Digital computer, Control system and microelectronic. ATS provide 100% placement oriented, job oriented, practical oriented Electrical Project training in Chennai. ATS provide morning batches, evening batches and weekend batches in Chennai as per student's requirement. ATS Electrical training programs covers basic, intermediate, advanced level training in all modules of various advanced skills in Electrical. ATS project development training with Internship providing training and get the people to complete the projects within required time period.
Recommended as No.1 Electrical project Center in Chennai | No.1 Electrical project Center in Velachery by the various college students in India. We provide high class and end to end project training and guidance in Final year projects for Electrical in Chennai at Velachery. Please call us to 7810898997 / 7810998987 / 9677183515 or give a cut call or fill up our online enquiry form to get more details about IEEE Electrical Projects in Chennai | Electrical Projects in Velachery for current year .