Blue Prism Training in Chennai | Blue Prism Training in Velachery at AllTechZ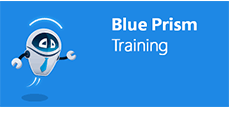 Are you Interested to get Training in Blue Prism Robotic Process Automation in Chennai ?   AllTechZ Solutions is one of the Best Blue Prism Training Institute in Chennai or Best Blue prism Training in Velachery, Chennai rated by our students and Corporate Professionals. Blue Prism enables the business operations to rapidly respond to market opportunity and business challenges, importantly, with the benefits of deployment within a managed and secure operational environment, ensuring compliance with enterprise IT operational standards. This balance of business agility and operational control is unique to Blue Prism Tool. So that only It has over 100 customers from a wide variety of industries enjoying the benefit of Robotic Process Automation and their Digital Workforce in Blue Prism. ATS provides the end to end Training in Blue Prism Automation Course in Velachery. We have designed the best industry needed syllabus for fresher and Experienced Professionals. Candidates can get unlimited interview opportunities till sitting in their job.
Introduction to RPA and Blue Prism
Intro to Cognitive Automation
Setting up and getting started with Blue Prism
Pre-requisites
Development Best Practices
Application Types – Main Frame, Java and Browser-Based Applications
Basic skills
Running a process
Process Flow
Rule based decisions
Collections, Circular paths and Loops
Breakpoints
Layers of Logic
Pages for Organization
Controlling Play – Debug mode – Step in/ out / over
Inputs and Outputs
Inputs, Output and Startup Parameters
Data item Visibility
Data types
Control Room
Process Outputs
Business Objects and Process Layers
Object studio and Process studio, differences
Action Stages
Application Modeler – Accessibility Mode, Win32 mode, HTML & SAP Mode
Spying Elements
Attributes
BO stages
Attach and Detach
Action inputs and outputs
Data items as Inputs
Error Management – Exceptional Handling
Recover and Resume
Throwing Exceptions
Preserving the Current Exceptions
Exception Bubbling & Exception Blocks
Exceptional Handling in Practice
Case Management – Work Queues
Queue Items
Work Queue Configuration
Defer
Attempts
Pause and Resume
Filters
Reports
Release Manager & Logging
Safe Stop
Collection Actions
Choice Stage
Log Viewer
System Manager
Process / Business Object grouping
Process and Object references
Export and Import
Packages and Releases
Recommended as No.1 Blue Prism Training Institute in Chennai | No.1 Blue Prism Training Institute in Velachery by our students and Corporate. We provide high class and end to end training in Blue Prism Automation Robotic course in Velachery. Please call us to 7810898997 / 7810998987 / 9677183515 or give a cut call or fill up our online enquiry form to get more details about Blue Prism Training with Placement in Chennai.
Related Tags :
Blue prism Exams in Chennai  |  Blue prism Exam Centers in Chennai  |  Blue prism Certifications in Chennai  | Blue prism Training in Taramani | Blue prism Training in Guindy |  Blue prism Exams in Velachery  |  Blue prism Exam Centers in Velachery  |  Blue prism Certifications in Velachery  | Blue prism Certification Centers in Taramani | Blue prism Certification Training in Guindy  |  Blue prism Training in Pallikaranai | Blue prism in Chennai | Blue prism Training in Velachery | Blue prism Training in Nanganallur | Blue prism Training in Palavanthangal | Blue prism Training in Medavakkam | Blue prism Training in Tambaram | Blue prism Training in Adyar | Blue prism Training in Thiruvanmiyur | Blue prism Training in Besant Nagar | Blue prism Training in Perungudi | Blue prism Training in OMR | Blue prism Training in Shozhinganallur | Blue prism Training in Ashok Nagar | Blue prism Training in Saidapet | Blue prism Training in Keelkattalai | Blue prism Training in Madipakkam | Blue prism Training in Meenambakkam | Blue prism Training in Pallavaram | Blue prism Training in Chrompet | Blue prism Training in St. Thomas Mount | Blue prism Training in Porur  |  BluePrism RPA Training in Chennai  |  RPA BluePrism Training in Chennai